In the last week, I've been to two concerts which have featured the music of Fryderyk Chopin. The first, at St John's Smith Square, was the second concert in British pianist Warren Mailley-Smith's wonderful and ambitious complete Chopin cycle; the second was a concert by young Polish Canadian pianist Jan Lisiecki, who performed the Opus 25 Études as part of his Wigmore Hall recital on 30th October.
Warren opened his concert with Chopin's Fantasie in F minor, Op 49, a dark yet majestic work to which he brought requisite scale and grandeur while also highlighting the more intimate elements of the piece. The rest of the programme featured shorter works: a selection of Waltzes and Mazurkas, and in the second half the complete Op 10 Études. What was apparent throughout the concert is that Warren clearly adores this music. This may sound crass, but I believe it is important to love the music you play. In the many interviews I have conducted with musicians, most will express a real love of the repertoire they play and this is often a deciding factor when planning concert programmes or recordings. Warren's affection for the music was apparent in every note and phrase and this was transmitted very clearly to the audience both through his sensitive shaping of the music, his elegant soundworld and his body language. Despite the size of the venue, he created an atmosphere of intimacy, amply demonstrating his appreciation for the small scale of many of the works played.
In his Études, Chopin elevates the student study into a work of great beauty and virtuosity – while also cleverly retaining the basic premise of the study, that it tests and hones one's technique. I think the key to playing the Études convincingly is to treat them first and foremost as beautiful pieces of music. Which is what Warren did. It is fascinating to hear the complete set in one sitting, to appreciate their contrasting characteristics and moods, and to marvel at the range of Chopin's imagination and powers of expression. In Warren's hands, each was a miniature miracle, sensitively rendered and deftly delivered. His assured technique was the foundation on which he built this artistry and the overall result was exceptionally engaging and intense. I look forward to the next concert in Warren's Chopin cycle, at the end of November.
Midweek, I heard Stephen Hough at the Barbican in music by Schubert, Franck and Liszt together with the premiere of his new Piano Sonata III, 'Trinitas'. There is no doubting Hough's formidable technique coupled with insightful musicality and this concert reflected this. It was a serious affair, only lightened at the end by the encores, but it was a satisfying and thoughtful concert.
Read my full review here
Finally on Friday to the Wigmore to hear Jan Lisiecki, billed as a "wunderkind" (a description that always makes me suspicious!). At just 20, Lisiecki has already garnered much praise, in particular for his recording of Chopin's Op 10 and Op 25 Etudes (he has been signed to Deutsche Grammophon since the age of 15). I have read much about Lisiecki, some very fulsome, some not, and I was curious to hear him live. Unfortunately, his concert was a very patchy affair. The opening Mozart Sonata (K 331) was elegantly articulated, tastefully pedalled and with an understanding of Mozart's orchestral writing, particularly in the middle movement. The Rondo all Turca, which certain pianists, who shall remain nameless, have a habit of thumping out at high speed, was witty and playful, undoubtedly helped by a more restrained dynamic.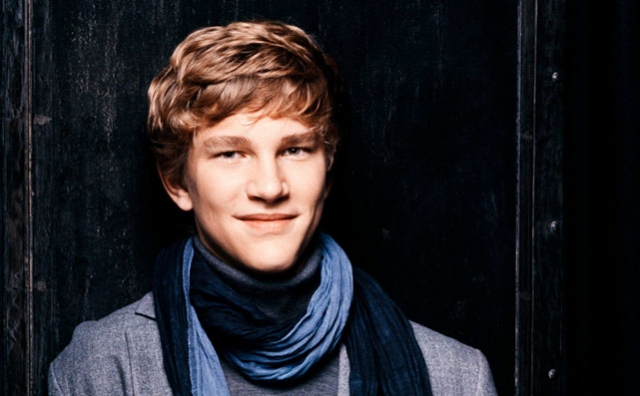 Things started to go wrong, for me at least, with three Concert Studies by Liszt, with further problems in Mendelssohn's Variations Serieuses, which were largely lost in unclear phrasing and overly loud playing. After the interval came Chopin's Opus 25 Études. The 'Aeolian Harp' Etude began well, with delicate figurations and a clear sense of the melodic line, but as soon as the volume began to increase, Lisiecki's touch became heavy handed and unrefined. In the more energetic Etudes, we were "treated" to an unrestrained display from the "louder faster" school of pianism. The 'Butterfly Etude' bounced around the keyboard like an over-sized clumsy moth. Phrasing went awry in the noisy melée, left-hand figures were highlighted but made no sense, and by the time we reached the 'Winter Wind' Etude, the brutal hammering of the piano had become almost laughable. In short, this was an unnecessarily flashy and tasteless display of arrogant adolescent virtuosity, which seemed to bear little fidelity to the score, nor an understanding of Chopin's distinctive soundworld (it is said by those who heard him play that even in the forte and fortissimo range, his sound never rose above mezzo-forte: this is of course in part due to the more softly-spoken instrument he favoured). I have a fundamental and ongoing problem with people playing Chopin's miniatures (and the Etudes are miniatures – just very difficult ones!) on modern concert grands: just because you can harness an enormous sound from such an instrument, it does not mean you should. A sensitive artist will know how to temper the sound to suit the repertoire – and the acoustic. The Wigmore is a relatively small venue and the audience does not need to be hit over the head with the sound of the piano….. I wondered, on hearing Lisiecki's playing, whether a teacher may have encouraged him to play that way, or whether it was simply the exuberance of youth. I also felt he is still looking for repertoire which truly suits his personality: when he does, I hope he may produce good things.