Guest post by Clare Hammond
Since 2017, British pianist Clare Hammond has given 25 concerts in 8 prisons across the South-West of England. Here she describes her experience of performing in prisons and how music can inspire, console and heal.
---
Prisons can be daunting environments. A trek through long concrete corridors and heavy iron gates, negotiating lock after lock, to find a community of adults, trapped, bound together by adverse circumstance. Emotions run high yet are often impossible to express – shame, detachment, fear, denial. A sense of loss and frustration is palpable.
These environments are so distinct from our usual lives that the experience of visiting one for the first time is profoundly disorientating. Not only the physical environment, but the social hierarchy, is unfamiliar. I had never previously been so aware of a disparity of power, of the tension that a necessary hierarchy between staff and prisoners can produce. Words become charged and communication falters.
Unlikely as it may seem, music can provide a way to overcome some of these obstacles. I started to perform in prisons in 2017 as I was recovering from a severe and disorientating bout of postnatal depression. Not only had I been profoundly depressed for a year, but at times I had sensed my grasp on sanity weakening. This in itself was so alarming, and my obsessional focus on disaster and despair so wearing, that I decided to take drastic action. I needed to try something new, something challenging enough to distract me from my interior monologue.
I contacted a friend of my husband, a prison Chaplain, and asked if he might be willing to arrange a concert. I had no idea whether a recital of classical music would be of interest, but he accepted. A few weeks later, I found myself at Security, lugging my electronic piano behind me. After a thorough search, I was admitted and made my way to the Chapel. As I unspooled the extension cord, heard just how thin the piano sounded in the acoustic, and watched the rows of men file in, I wondered whether this had been a sensible decision.
I took a deep breath. Some listened expectantly while others were conspicuously indifferent. Two small pockets of young men were joking around, elbowing each other and sniggering. After a couple of virtuosic Chopin études, I decided to focus on the human stories behind the music, describing obstacles that the composer had faced and the way these emerge in their music. I described Schubert's final illness, the isolation he experienced, and the beauty of the music he composed during that period. This was more powerful than I could have anticipated. The audience were completely still during his Impromptu in G flat major and, to this day, this remains one of my most moving concert experiences.
I have now given 25 recitals in 8 different prisons and still follow this format. I present, in turn, Robert Schumann's battle with bipolar disorder, Beethoven's contemplation of suicide in the Heiligenstadt Testament, or Hélène de Montgeroult's imprisonment and sensational trial before the Committee of Public Safety, evading execution by the skin of her teeth. I programme tonal music with familiar melodies alongside more adventurous repertoire. Unsuk Chin's phenomenally inventive Toccata, as 'uneasy' a listen as you could hope for, has become a surprise hit. To see the eyes of a young man light up in enthusiasm at his first encounter with hardcore contemporary music was not something I had anticipated. I donate copies of my discs, often of obscure repertoire, to the prison libraries and hear, months later, that a man who had never listened to classical music before has become a fan of Szymanowski.
From a personal perspective, these concerts have healed and grounded me. I have always been an anxious person, and suffered from debilitating guilt when I was ill with depression. Seeing the power music has to connect people, to console and inspire in such difficult environments, has taught me the value of my work. I now feel that I am making a real contribution and am much calmer as a result.
I believe firmly that everyone should have access to classical music, in all its forms. It broadens horizons, offering a glimpse of what life could be, what adventures are possible. Most importantly, though, it creates a visceral link between us – between those who hear a performance, those who play together in a band, or between a long-dead composer and the people their music inspires. Music is powerfully communicative, particularly in environments where words are too charged for comfort. It transcends our daily struggles and brings hope.
---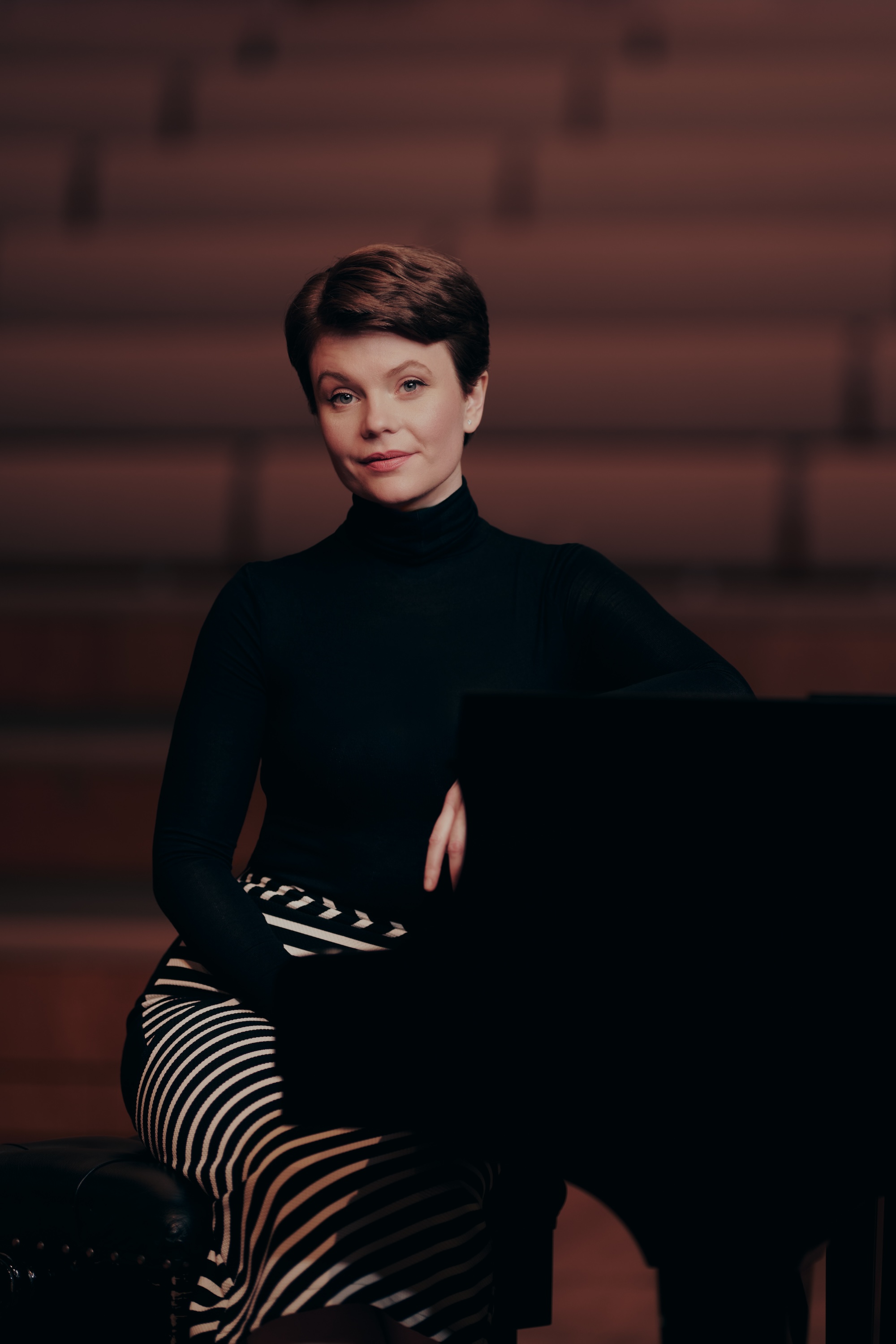 Acclaimed as a "pianist of extraordinary gifts" (Gramophone) and "immense power" (The Times), Clare Hammond is recognised for the virtuosity and authority of her performances.
In 2016, she won the Royal Philharmonic Society's 'Young Artist Award' in recognition of outstanding achievement. Recent highlights include Grieg Piano Concerto with the City of Birmingham Symphony Orchestra, Moussa and Carwithen with the BBC Symphony Orchestra and BBC Concert Orchestra, Panufnik with the Warsaw Philharmonic Orchestra, and recitals at the Aldeburgh Festival, Palazzetto Bru Zane in Venice (broadcast on RAI 3), Husum Festival in Germany, and in Denmark and Norway with Henning Kraggerud.