I finally got round the watching John Bridcut's film of Winterreise, with baritone Benjamin Appl and pianist James Baillieu. I'm a great admirer of Bridcut's films, in particular those about Benjamin Britten, and this new film of Winterreise is immensely appealing in both setting and, of course, the music. It's filmed in Switzerland, in and around the extraordinarily striking Julier Tower, a remarkable modern theatre constructed of wood and glass whose stark, blood-red walls contrast sharply with the snow-covered landscape in which it stands. The scene is set immediately, with Benjamin Appl trudging through deep snow, in a snow storm (apparently, the snow began to fall just before filming began). Here is Schubert's lonely wanderer, having left the house of his beloved, cast out on a journey of reflection on love, love lost, regret, sorrow, the torment of reawakening hope and the journey to resignation. Set to poems by Wilhelm Müller, this is a literal and metaphorical journey for the protagonist.
I love this music (and as regular readers/followers know, I love the music of Schubert in general, and his later piano music in particular), and I've heard Winterreise in concert on a number of occasions, each one of them moving and memorable – Ian Bostridge with Mitsuko Uchida, in English translation with Roderick Williams and Chris Glyn, in a modern reworking in Zender's Winterreise (also with Bostridge) and most recently sung by mezzo-soprano Angelika Kirchschlager with Julius Drake, on one of the hottest days of the year back in the summer of 2018. Each time I have found much to ponder in this, perhaps the finest song cycle by Schubert, or indeed anyone else….
There is no denying the arresting grandeur of the setting of Bridcut's Winterreise. Bright white, deep snow, stunning Alpine peaks – and that curious modern structure set amidst it all. Appl is as striking as the landscape, as perfectly chiselled as those mountains, with deep blue eyes which burn with passion or glaze with tears in the more poignant songs or passages, or occasionally fix the viewer with an unsettling directness which only adds to the power of Müller's text and Schubert's music. He has a wonderfully clear, clean voice, with a range from a whispered pianissimo (the level of control here is impressive) to raging fortissimo. James Baillieu, playing a gorgeous Bösendorfer piano, whose case (was it rosewood?) seems to hark back to a Schubert- era instrument, brings depth and clarity to the music. He avoids ponderousness in the darker songs and there are moments of delicious sweetness or tender poignancy – in Der Lindenbaum or Frühlingstraum, for example – but it is in the darker or more desolate songs that Baillieu really portrays the wanderer's predicament, often simply through judiciously placed single notes or a fractional pause (agogic accent) before placing a note (Gefrorne Tränen, for example). The closing song, Der Leiermann, is absolutely devastating in its spare simplicity.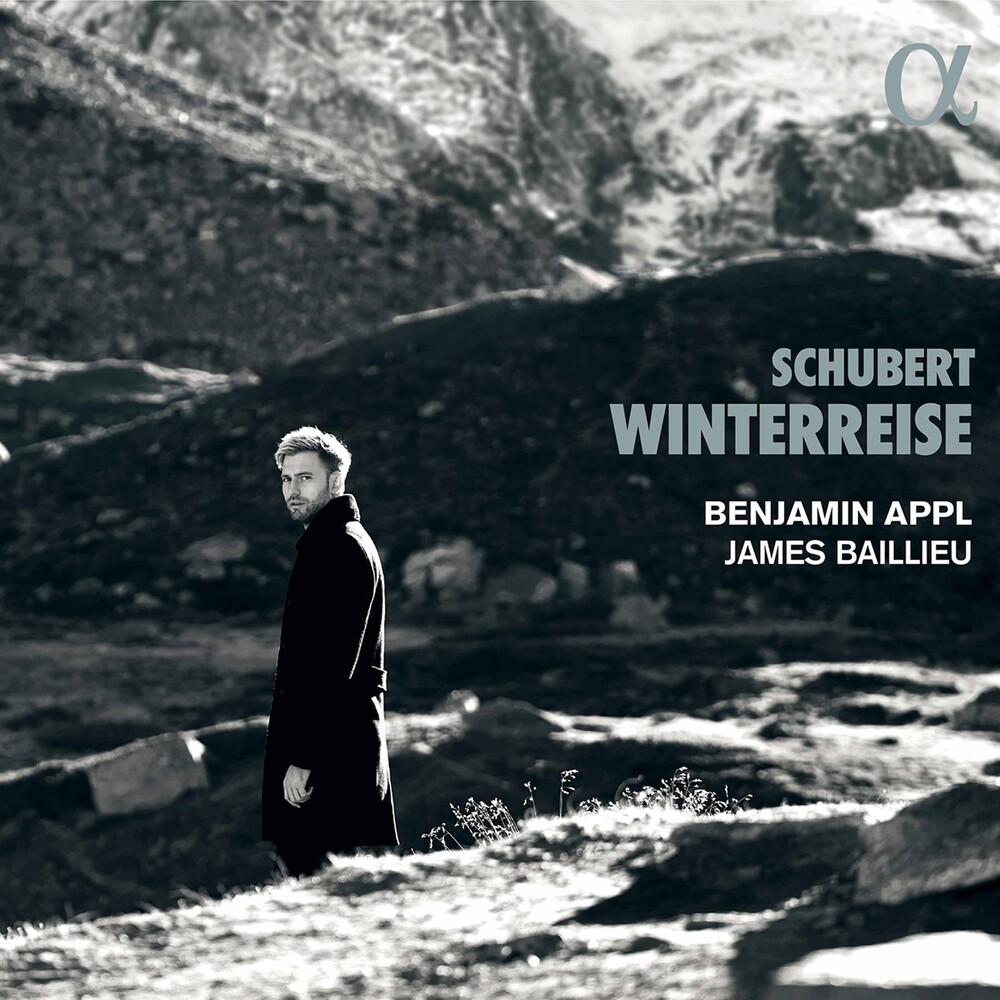 The performance of the music is first class, really engaging, and both singer and pianist deftly capture Schubert's shifting emotions, curious harmonic shifts (as Baillieu says in one of the commentaries, the shift from major to minor in Schubert is like moving from one universe to another). The songs are occasionally interspersed with commentary by Appl and Baillieu (less frequently) on the music, and there's a wonderful segment of Appl in conversation with Brigitte Fassbaender, discussing the appropriateness of this music for the female voice as well as the male.
But I have to admit, I found quite a lot of the film distracting. Pondering this after the event, I suspect it is because I have my own internal image of the lonely wanderer and for me, he (or she) is not in an awe-inspiring Alpine landscape, but rather trudging along a snowy road, in a flat, featureless landscape only occasionally relieved by a signpost, a village, a stream….. I also found some of Appl's acting a little contrived – he didn't always seem entirely comfortable (and presumably quite cold!) out in the snow drifts, and for me, he was always far more convincing when inside with Baillieu (and there are some wonderful moments when he sings seated at the pianist's side, a nod, perhaps, to the way the songs would have been performed in Schubert's day). Also, I don't need visual cues to understand the narrative – but for this reason, I think the film is an excellent introduction for the Winterreise ingénue, the narrative compellingly matched in striking images and impressive sound quality which allows us to fully appreciate and enjoy composer, music and of course the musicians.
Winterreise is available via the BBC iPlayer and Marquee TV
Listen to a podcast with Benjamin Appl
Benjamin Appl's new recording of Winterreise, with James Baillieu, is available on the Alpha Classics label