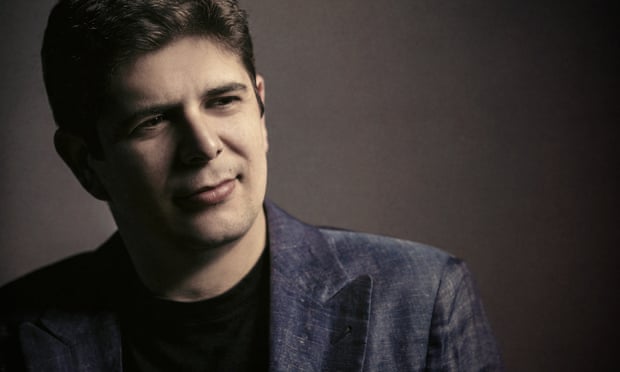 (Photograph: Josep Molina/PR)
Who or what inspired you to take up the piano, and pursue a career in music? 
I actually took my first musical steps playing the clarinet in the marching band of Nerva, the village where I grew up.  This was the first instrument I ever learned, and I could see myself taking it further.  But then an aunt introduced me to the incredible sound world of the piano and from the beginning. I was absolutely fascinated .  As for the second part of the question, I feel that things have always progressed very naturally: I never had to make any decision as to whether or not to pursue a career in music.
Who or what have been the most important influences on your musical life and career? 
I'm really lucky in that I've always had extraordinary teachers: Julia Hierro (my first teacher), María Ramblado, Ana Guijarro, and Josep Colom have been a source of wisdom and inspiration throughout my student years. I've also had the chance to get great advice from Daniel Barenboim, Richard Goode, or Alicia de Larrocha, all of whom I deeply admire.
What have been the greatest challenges of your career so far? 
Every new piece I learn – I like to think of that as the greatest challenge!
Which performance/recordings are you most proud of?  
It is quite hard to pick a particular concert or recording, but perhaps for its special significance maybe I'd pick having taken part in one of the last concerts of the Tokyo Quartet during their farewell season, doing the Brahms and Schumann Quintets. It was a highly emotional experience and unforgettable for me as I was a long-time admirer of the Quartet.
Which particular works do you think you play best?
I prefer to leave that to audiences, but I also like to think that what I should play best is what I'm performing or working on at the moment.
How do you make your repertoire choices from season to season? 
One consideration is to link recording plans with the launching of recordings with Harmonia Mundi and, on the other, to consider particular requests from promoters as well as any lines of programming that orchestras and conductors might have. In any case, when I work on devising a recital program I like to find some unifying principle and/or connections amongst the works being presented.
Do you have a favourite concert venue to perform in and why? 
It's difficult to choose just one among so many extraordinary concert halls where I've had the great pleasure to perform. Suntory Hall in Tokyo presents a very special combination between its admirable acoustics and great audience capacity; another wonderful hall that is a favourite for its forward-looking conception is the New World Center in Miami. And how to forget the magic and tradition one can feel in temples of music like London's Wigmore Hall, Amsterdam's Concertgebouw or New York's Carnegie Hall.
Favourite pieces to perform? Listen to? 
I hesitate to even begin answering the first question: the repertoire is so vast, rich and varied! Like I said before, perhaps whatever piece I'm working on or performing at the moment becomes my favourite. As to my listening habits, let me just give you a small glimpse through my iPod playlist: Granados' Goyescas with Alicia de Larrocha, Tchaikovsky Symphonies with St. Petersburg Philharmonic and E. Mravinsky, Brahms Symphonies with N. Harnoncourt, Chopin Nocturnes with MJ Pires, the last Schubert Sonatas with Radu Lupu, Beethoven Sonatas with Daniel Barenboim, Mozart piano concertos with Mitusko Uchida, Schubert Trios by the Beaux Arts, Debussy by Michelangeli and a very long etcetera.
Who are your favourite musicians? 
As a pianist I'm such an admirer of many of today's musicians such as Barenboim, Pires, Lupu or Sokolov. At the same time, I must also say that I'm fascinated by past musicians like Schnabel, Lipatti, Michelangeli, Rubinstein, Myra Hess, Hoffman, Cortot, etc. If we add to the list other instrumentalists, singers, and conductors the list would prove to be endless!
What is your most memorable concert experience? 
In addition to my collaboration with the Tokyo Quartet during their farewell season I should single out my debut in Lucerne with Zubin Mehta, my recent collaborations with Tabea Zimmermann, Beethoven's Emperor with Daniel Barenboim, Ravel's G Major with Daniel Harding and the London Syphony, the Schumann with Michael Tilson Thomas, and my debuts with Yuri Temirkanov and Maazel, among many others. I greatly cherish those memories.
What do you consider to be the most important ideas and concepts to impart to aspiring musicians? 
Honesty, dedication, personality, work and passion.
Where would you like to be in 10 years' time? 
I'd like to be exactly the same but of course with the maturity, experience and depth ten years will bring!
What is your present state of mind? 
Searching, exploring, discovering and delving deeper!