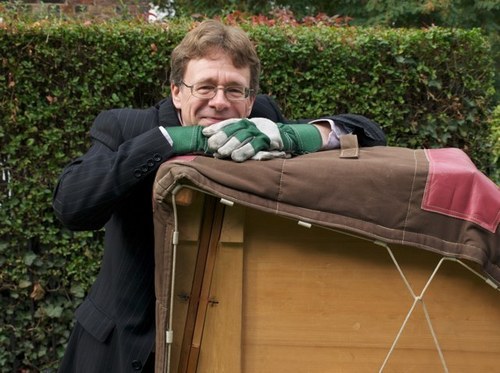 Who or what inspired you to take up the piano, and make it your career? 
A relative had a battered old upright that she was getting rid of. My parents thought I showed some musical talent and saved the instrument from the breaker's yard so I could have some piano lessons. It got me through Grade 6 before it fell to bits!
Who or what were the most important influences on your musical life and career? 
As a youngster, I have to say it was my school music teacher, who conducted the local choral society. He took me to a performance of Haydn's Creation he was conducting one evening. When the big C major chord arrived ('and there was LIGHT') I was hooked forever! My parents were wonderfully supportive. Later, Denis Matthews was a strong influence, teaching me to look beyond the notes and certainly beyond piano music for an understanding of musical language. I'll never forget one lesson where he simply played (from memory) huge chunks of Mozart string quartets at the piano, explaining how the music worked conversationally and how that should underpin my own playing at the keyboard. But of all the influences, the strongest has to be my wife, Jane (a clarinettist), who makes music speak in ways I could never have imagined possible.
You are a noted performer on harpsichord, clavichord and fortepiano. When and how did your interest in early keyboard instruments develop? 
My main interest has always been in music of the 'long' eighteenth century, and there came a point when I realised that I simply couldn't capture the sound I was seeking on a modern piano. The much lighter and articulate touch of clavichords, harpsichords and fortepianos suited my physical connection to this music far more effectively, and I made the decision to 'emigrate' from the modern piano. I've never looked back since. A strong inspiration has been Ronald Brautigam. His complete Beethoven piano cycle (recorded exclusively on pianos by Paul McNulty copied from originals by Stein, Walther and Graf) is in a league of its own. Partly, too, it's the fascination I have with fine craftsmanship. It's a great privilege to know some expert keyboard makers and restorers, and understanding the instruments from their perspective is something that crucially influences my approach to producing sound at the keyboard. There's something deeply satisfying about the connection between the instrument and the way it can (through my physical actions) produce sound. Incidentally, I make no claims to 'authenticity' (a term those of us in the period instrument world never use anymore). I'm not 'recreating the sound of Mozart's sonatas as the composer intended'. How could we ever know that? I'm exploring sound possibilities that might be produced by instruments carefully and lovingly built using techniques and materials known in Mozart's day. I also choose to play in ways that are informed by documentary evidence from his time (including his father's very famous book on violin playing), rather than approaches that were developed a hundred years or more later and which were, willynilly, just imposed retrospectively on Mozart's very different musical language.
What have been the greatest challenges of your career so far? 
It has to be achieving the balance between the academic and performing sides of my life. I worked for many years in the music department at Bristol University (where I was Professor) and latterly as Director of London University's Institute of Musical Research. I now split my time (theoretically) 50:50 between being Reader in Historical Performance at Trinity Laban Conservatoire of Music and Dance, and performing. Finding enough time to practise is the key!
Which performance/recordings are you most proud of?  
Probably the DVD documentary on Mozart's "Kegelstatt" Trio and also the complete Clarinet and Piano sonatas of Vanhal (issued on sfzmusic last year as part of the Vanhal bicentenary), with my wife sounding amazing on 5-keyed B flat and C Viennese boxwood clarinets.
Which particular works do you think you play best? 
I should say Mozart, really, given that I've published five books on his music! But at the moment, I think I'm making serious progress with Haydn (I'm recording four of his sonatas at the end of April). Played on fortepiano, I'm so much more aware of the extent to which Haydn's music depends on colour and on silence – which suits my approach to sound production on the Viennese instrument with its much shallower key-dip and the immediacy and clarity of sound. I couldn't possibly do this justice on a modern piano (which isn't to say that it can't be done).
How do you make your repertoire choices from season to season? 
First and foremost, it revolves around what my group, Ensemble DeNOTE is performing. DeNOTE was founded in 2010 when I was Director of the IMR in London, and was intended originally as a workshop for exploring ideas in Historically Informed Performance, bringing together players and scholars. But the group took off and soon gained an identity of its own, bridging the gap between scholarship and performance in hopefully accessible ways. We've done a huge amount in the university and conservatoire environments, as well as the Brighton Early Music Festival, and other festivals across the UK. At the moment, there's lots of Beethoven (another CD recording at the end of March of the composer's own arrangements of the Septet as a Trio, and the Piano and Winds Quintet as a Piano Quartet). Next season we are looking forward to Mozart's Gran' Partita in a quintet version dating from around 1800, as well as more performances of the "Kegelstatt" Trio at Finchcocks. I try to fit solo repertoire around this (and sometimes around CD releases). Despite the Vanhal disc last year, I don't really plan repertoire around composer anniversaries. I'm more interested in connections of music and place (I have a Bach and Leipzig programme coming up with oboist Leo Duarte next month), and in the culture of arrangements, which were common in Beethoven's day. That extends to commissioning new arrangements. Last year I premiered a version of Mozart's E flat Piano Concerto, K.271 for piano and wind sextet; in June I'll be doing K.488 for the same forces.
Do you have a favourite concert venue to perform in and why? 
I absolutely adore St Cecilia's Hall in Edinburgh, mainly because it houses one of my all-time favourite instruments, a glorious 5-octave clavichord by Johann Adolphe Hass (1763). The moment I first played this clavichord I just knew it was right for Mozart, and I was lucky enough to record a CD on it (which appeared last year).
Favourite pieces to perform? Listen to? 
Mozart's Piano and Winds Quintet, K.452. I never tire of that. The piano part is wonderful in itself, but what really fascinates me is the colours of the ensemble as a whole – on period instruments, at least. For instance, the middle episode in the finale, features a descending chromatic scale on the horn (yes, contrary to popular belief, natural horns can produce lots of notes other than the harmonic series!), each one of which is a subtly different colour from the last. On a valve horn it's just not the same, really…
To listen to, I don't really have a favourite piece. The shortlist would include Bach's "St Anne Prelude and Fugue", Corelli's Op.5 Violin Sonatas, Haydn's Creation, Beethoven 7th Symphony, Schubert's last Sonata in B flat, large doses of Sibelius and Messiaen (the latter especially if played by Peter Hill, another of my teachers from university days), and at least 626 compositions by Mozart!
What is your most memorable concert experience? 
One is a piano duet recital with Ronald Brautigam where, contrary to what you might think from listening to his recordings of Mozart, he indulged in the most astonishing improvised embellishments, to the point where we were almost making the content up in musical conversation as the recital progressed! Another is a performance of Beethoven's Piano and Winds Quintet last year, which was the world premiere outing of an exceptionally fine fortepiano by Yorkshire-based maker, Johannes Secker, whose instruments I'll be featuring in a historical keyboard course in Lythe this July.
What do you consider to be the most important ideas and concepts to impart to aspiring musicians?
First and foremost, to study and respect the score, but never be enslaved by it. The music lies beyond the notes. Notes are symbols for sound. They represent possibilities for the imagination. Resist the notion that the score prescribes what you have to do; that it is something to be robotically obeyed. It's actually a basis for negotiation, mainly with your own imagination.
Also, remember that humility goes a long way! There are plenty of musicians who have no idea of that concept, who believe their own publicity. Quite a few of them are "famous". But is that the point, ultimately? Surely music is bigger than that?
What are you working on at the moment? 
For starters…Beethoven Op.16 (quartet version) and Op.38 (his trio arrangement of the Septet); a Mozart Piano Quartet; a clutch of Haydn sonatas for a forthcoming CD recording; a couple of Mozart sonatas; Bach 4th French Suite; Mozart Piano Concerto, K.488.
Tell us a little more about your forthcoming digital book 'The Mozart Project'. 
I was asked to participate in this project when it was but a twinkle in the eye of two enterprising young men at Pipedreams Collective, Harry Farnham and James Fairclough. It just spiralled from there really. I wrote chapters on the Concertos and Chamber Music, recorded a series of video performances and eventually became their consultant editor. Several other Mozart specialists have contributed chapters, and the result will be an interactive experience that goes way beyond what a traditional book and a single author could achieve. We all hope The Mozart Project will introduce Mozart's genius to new generations of admirers. You can follow tweets at @themozartproj and it's due out at the end of this month on the AppStore.
John Irving discusses the immediate impact of Mozart's Concertos.
JOHN IRVING is Professor of Historical Performance at Trinity Laban Conservatoire of Music and Dance, London, and Associate  Fellow of The Institute of Musical Research, School of Advanced Study, University of London. Previously Director of the IMR – the UK's national music research institution – John has been Professor of Music at the University of Bristol and at the University of London. He now divides his time between his academic work at Trinity and his performing career as a fortepianist.